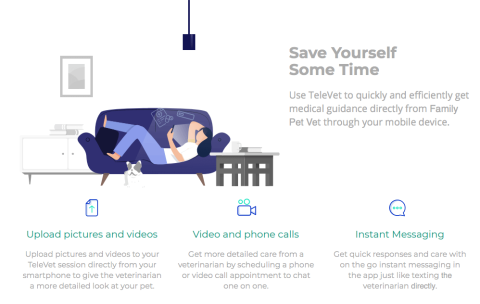 GET VETERINARY ADVICE WHEN YOU NEED IT
Now more than ever, we know many things can get in the way of your pet getting medical care.
Problems such as owner sickness or disability, transportation issues, cost concerns, pet behavior issues
and more can make it more difficult to have a pet be seen by a veterinarian.
We suggest you 'see' us through Pet Telemedicine so we can address your concerns before having an
in-person appointment. Is your cat hiding every time you bring out the carrier? Do you need to learn
some dog behavior tips? Let us check in on your pet remotely. If we detect something of concern and
need to listen, feel, or do a test, we will schedule an additional curbside exam.

Simply Download the app: TeleVet-Remote Pet Care from the Apple app store or Google Play Store so we can connect you
Family Pet Veterinary Centers remotely. Request a consult ($45) and we will schedule a medical video
conference, phone call, and/or chat with you. Though we sometimes have to respond later the same
day, we have extended hours of availability to answer your questions: – as late as 9pm on weekdays
and 9am-9pm on Saturday and Sunday. When the initial consult results in the need to listen, feel, or
test your pet, an additional Medical Progress Exam ($45) is needed. This exam is less expensive than
our typical Diagnostic Exam.

The app allows you to talk directly to a veterinarian and even upload pictures or videos from your
phone. Consider also downloading the zoom app so the veterinarian can show you pictures and
handouts from their computer screen.

A consultation costs only $45 to speak directly with one of our veterinarians. Follow-ups to a patient
that was already seen in the previous 2-4 weeks are only $35. This type of consult is best for behavior
and nutrition concerns. This is also a good time to review they whys associated with a treatment plan
and costs.

Oral dentistry consultations are now available via TeleVet for the $45 fee. While this is less expensive
than the typical $100 fee, no part of the TeleVet consultation is refundable at the time of the
anesthetic dental procedure given the added technology costs to the practice.

At Family Pet Veterinary Center, we are here to help be an advocate for your pet, but we care about
you and the human-animal bond.

The process to connect is easy and simply requires access to apps on your phone.
Steps:
1. Download the app located in the pop up on this screen
2. Find Family Pet Veterinary Centers
3. Enter some basic pet information and a photo if you wish
4. Pick a time that works for you
5. We will respond with a time that can work for us.
6. Chat, send us pictures or video clips
7. Connect with a phone call or video conference at the agreed upon time.
8. Get a summary of your TeleVet visit