Fear Free Certified, Medical Acupuncture Trained
DVM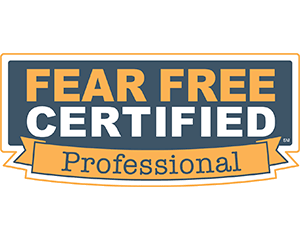 Dr. Ryan grew up in a military family, spending his childhood in Germany and Arizona. He graduated with a Bachelor of Science degree in Veterinary Science from the University of Arizona. Upon graduating, he went on to complete his veterinary curriculum in May 2000 with a Doctor of Veterinary Medicine degree from Colorado State University.
He returned to Arizona as a Small Animal General Practitioner in Tucson and Phoenix, Arizona until December 2011 at which time he and his wife moved to Iowa to be closer to family. He is Fear Free Certified which represents an utmost dedication to reduce fear, anxiety, and stress for his patients and improving their overall quality of life. Dr. Ryan's medical interests include a wide range such as dentistry, dermatology, pain management, and preventative medicine. He is also trained in Medical Acupuncture.
Dr. Ryan is married with two children and has had many furry family members over the years with the newest addition being Mina, a Standard Poodle puppy. He enjoys camping, fishing, biking, and hiking. You can often see him out metal detecting during nice weather on his lunch breaks, always looking for some unique finds!
Clients often say what a pleasure it is having Dr. Ryan as their veterinarian, and we have many regulars who request him specifically. Fear Free work and Quality Care are most important to us, and we believe he reflects those values in his work whole-heartedly! One of the most important values to Dr. Ryan, personally, is to have his patients and clients alike feel like part of our family, knowing that compassionate care and quality care can go hand in hand to help your beloved furry companions to live a long and healthy life creating a lifetime of wonderful memories.
---