Last month, this adorable kitten was relinquished to a local rescue group following a traumatic injury to his left front leg. When Bruce was brought into our Norwalk office his leg had been mangled by a mower blade and infection had already set in. Unfortunately, Bruce's leg was not salvageable as the leg had been crushed and Bruce no longer had any feeling in it. Following his examination, Dr. Maggie Wilson recommended forelimb amputation to the rescue group.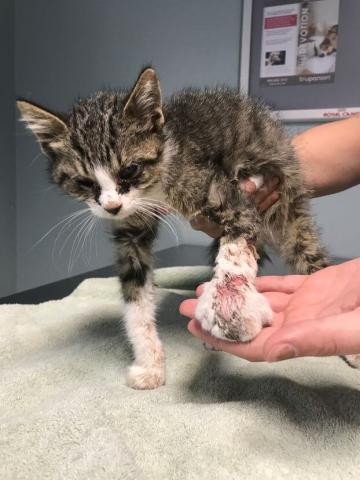 Fortunately for Bruce, the rescue group allowed Dr. Maggie to surgically remove his leg and treat his infection so he could return to his normal, active life. While amputation is never something we jump to recommending, it can be a great option for some patients (like Bruce) who have injuries that are not repairable by other means. Most pets do great following a limb amputation as they use their other three legs to balance out the difference. The majority of pets who have undergone limb amputation are back up to their full capacity within 2 weeks following surgery.
During his recovery period, Bruce has spent quite a bit of time at our Norwalk office with his foster mom Erin (who happens to also be one of our fabulous veterinary assistants). As you can see in the video below, Bruce is now healed and infection free, and he has returned to his active, playful self. If you are interested in adopting Bruce, or would like to contribute to the rescue that is paying for his medical costs, please visit the Panora Pets Facebook page.