BOARDING POLICIES AND PROCEDURES
We take very seriously the trust you demonstrate by leaving your pet in our care.  And while there is "no place like home," it is our sincere purpose to provide a safe, comfortable, and caring environment for your pet while in our care.  Clients should feel confident that our boarding procedures are of the highest quality and that your pet is attended by trained, experienced, kennel staff and a qualified veterinarian seven days a week.
| | |
| --- | --- |
| Boarding price per day per pet |   |
| Dog 1-20 pounds | $27 |
| Dog 21 pounds and over | $33 |
| Cat | $26 |
| Exotic | $19.33 |
| After Hours Pick Up Service per household | $15.45 |
Our canine boarding suites offer glass front doors and raised beds with fresh linens and treats provided each day. Dogs are walked on a leash at least twice per day, just as you would take your dog for a walk. Additional daily walks are available for $15.
Our separate feline area has cat condos with rotating access to the comfy couch and cat trees.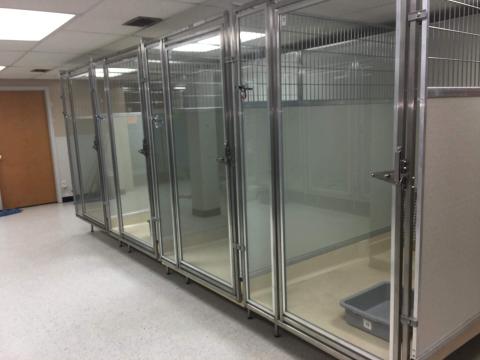 The following are our kennel policies and procedures:
All dogs and cats are walked or held a minimum of twice per day by staff members to ensure warm and caring human contact.
All kennels are cleaned a minimum of twice a day – including sanitizing, change of towels, fresh food and water, litter boxes, etc…
All boarding pets are monitored continually throughout the day by trained veterinary staff.  Staff members monitor all body functions and are trained to alert a veterinarian if potential problems such as poor appetite, depression, lethargy, skin irritations, eye or other abnormal health problems should arise while in our care.
All boarding pets are fed a high quality maintenance food for intestinal health.  Unless otherwise directed by clients or a veterinarian, only dry food is used to ensure firm stool and prevent gastrointestinal problems.  Clients are welcome to bring their regular diet from home.
Should any pet become ill while boarding, Family Pet Veterinary Center reserves the right to treat your pet as authorized by you at admittance.  Boarding can be stressful for some pets and sometimes illnesses develop that were in the process of developing at home.  By entrusting the health of your pet to us, we consider treatment our responsibility in your absence.  If you provide an emergency contact number we will make every attempt to contact you prior to any treatment.
We will be happy to care for convalescing pets or pets on medication at a minimal charge assessed daily.
When you pickup your pet we will be glad to review your pets progress during his/her boarding stay.
Please keep in mind that pets, like humans, need time to adjust to boarding "vacations" both during and following boarding.  If your pet's behavior is abnormal at pickup or when he/she returns home – do not hesitate to speak with us!  We'd be happy to treat your pet for any problem and wish only to return your pet to you in good health.
In order to protect the health of your pet and ensure the health of other hospitalized or boarding pets we require that the following vaccines and tests be up to date:
| | |
| --- | --- |
| DOGS | CATS |
| DHP, Parvo | FVRCP/Upper Respiratory |
| Rabies | Rabies |
| Bordatella | FELV vaccine or test |
| Stool Exam (within 6 months) | Stool Exam (within 6 months) |
| Bravecto or Trio brand flea prevention ingested in last 30 days no matter the season | Revolution Plus or Feline Bravecto applied in last 30 days no matter the season |
| Deworming current (ask team member) | Deworming current (ask team member) |
| Leptosporosis vaccine |   |
| Current Heartworm test (yearly) |   |
At admittance, please take the time to help us complete the boarding admittance form that records any past or current health problems, sensitive areas, or current treatment.  By knowing any pet behavior problem or home routines we can make your pet's stay with us as stress free and pleasant as possible!
Many clients enjoy calling us during vacations and out-of-town trips.  Feel free to give us a call and we will give you an update on how your pet is doing! We also can email you photos of your pet during their stay!