Every week we send out many cards to clients. Some are welcoming them to the office. Others are congratulations. We always send sympathy cards for the loss of a pet. Most of these cards are hand stamped.
Clients have likely seen information on our dental referral service. I am in a residency program in veterinary dentistry. Why do I like it so much? Dentistry is the best way to improve the lives of pets. It is also the arts and crafts of veterinary medicine. I need to use my art side as well as my science side.
There are times I am overwhelmed with work/family/life. My stress relief/outlet is a half hour of paper crafting – I feel renewed and love that I can admire in a short time something gorgeous I've accomplished. Then I am able to get back to the long marathon tasks instead of the almost instant gratification of many paper crafts.
While I am an experienced paper crafter, it's always fun to learn new techniques. I signed up with Altenew's classes to view other ideas. These classes are easy for me to view on my phone when I have a few minutes between meetings.
This blog series will showcase projects from the classes I'm using to make the sympathy or welcome cards for the office.
The first class, All About Layering 1, illustrated layering of different stamp sets. The designs shown were primarily clean layouts often with some embellishment. Some were outlines and color fills, while others layered without the outlines. Some used coordinating dies to cut out the images while others did not. The inspiration for my card was the muted tones in the background with the subtle "wink" of Stella accent.
I chose warm greys and yellows for this project: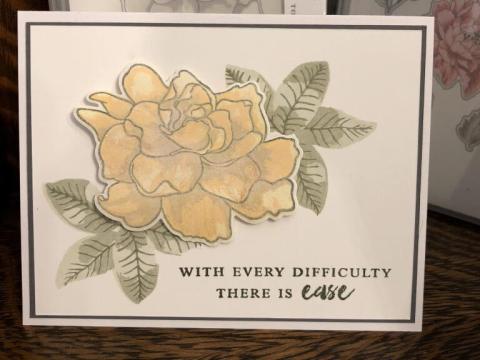 The stamp set selected is Altenew's build a flower Gardenia set. This set comes with the coordinating dyes. I used Tim Holtz's stamp positioner to align the layers. The flower was outlined with moon rock ink and filled base to top with buttercream, sunkissed, and sand dunes ink. The leaves (base to top layer) were inked with lava rock, morning frost, and evening gray. The text (from Remember This) was also in moon rock and the thin border paper coordinates with moon rock ink. The gardenia was cut with the coordinating die, covered with Wink of Stella to add a hint of shine, and raised by attaching two layers of foam dimensionals.
If you are the recipient of this card from my office, I hope it brightens your day!
Dr. Jen